Over 60 European Scholars already express their endorsement for MEDem
In the process of becoming a European Research Infrastructure, MEDem has been receiving increasing support from scholars across Europe and beyond.
"I have long supported open science and open data norms, and MEDem represents a strong and major step forward towards those goals. It will yield more creative, more productive, and more informative social science research." – Thomas Mustillo (University of Notre Dame)
This July, over 60 academics from various fields have already come forward to demonstrate their endorsement for MEDem to be included onto the ESFRI Roadmap, and their belief in the transformative power of research and collaboration that will be fostered within MEDem. You can find the full list of supporting scholars at the bottom of this article (related files).
ESFRI, the European Strategy Forum on Research Infrastructures, stands as a strategic and advisory entity, offering indispensable support for the advancement of research infrastructures throughout Europe. With its central role in fostering coordination and cooperation among European countries, research organizations, and key stakeholders engaged in the development and operation of these infrastructures, ESFRI serves as a catalyst for progress and collaboration in the scientific realm. MEDem will apply for the ESFRI roadmap in 2024. Its inclusion would signify its official recognition as a European Research Infrastructure in the Social Sciences and Humanities with the potential to contribute significantly to scientific progress and societal well-being.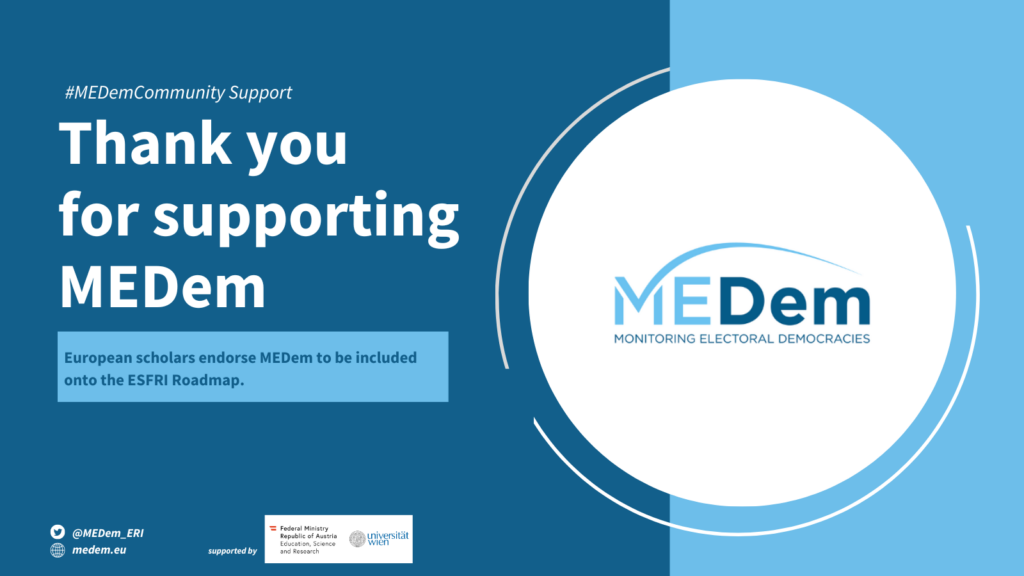 Do you want to support MEDem and its vision? Submit your personal expression of endorsement by following the link below.