MEDem gains support from 270+ Democracy Scholars
As MEDem continues to advance, the research infrastructure hits new heights of supporting democracy scholars this autumn.
Over recent months, MEDem has witnessed a significant expansion of its scholarly community. Scholars from across Europe and beyond have shared their thoughts on MEDem and its vision:
"In the face of the democracy crisis at both national and EU levels, the need for this research infrastructure is more urgent than ever." – Gail McElroy, Trinity College Dublin
"I support MEDem because I believe that building and sustaining infrastructures and resources for research in the social sciences is a vital endeavor that requires substantial effort, proper funding, and due recognition." – Johannes Breuer, GESIS
"My research heavily relies on the availability of large datasets. Better integration of different data collections will enable me to explore new research questions." – Wouter van der Brug, University of Amsterdam
"We must coordinate our efforts and collaborate to produce high-quality data on which to base our research." – Sara Pasadas-del-Amo, Institute for Advanced Social Studies (IESA)
In the upcoming months, the Headquarters team, Steering Committee, and the entire MEDem community will work diligently on the research infrastructure's application for the inclusion in the ESFRI roadmap. To facilitate this, the second MEDem Conference will be held in Vienna in February 2024, bringing everyone on board.
ESFRI, the European Strategy Forum on Research Infrastructures, plays a crucial role as a strategic and advisory entity, providing essential support for the advancement of research infrastructures across Europe. By fostering coordination and collaboration among European countries, research organizations, and key stakeholders involved in these infrastructures, ESFRI acts as a catalyst for progress and cooperation in the scientific field. MEDem's inclusion would signify official recognition as a European Research Infrastructure in the Social Sciences and Humanities, with the potential to make substantial contributions to scientific advancement in the field of democracy research.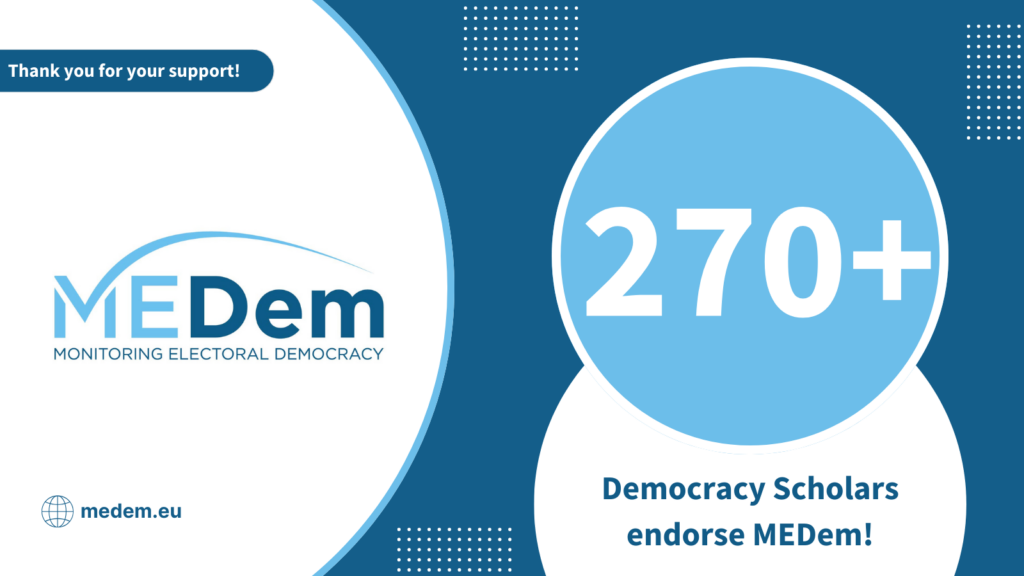 Do you want to show your support for MEDem? Submit your personal expression of endorsementby clicking on the button below.